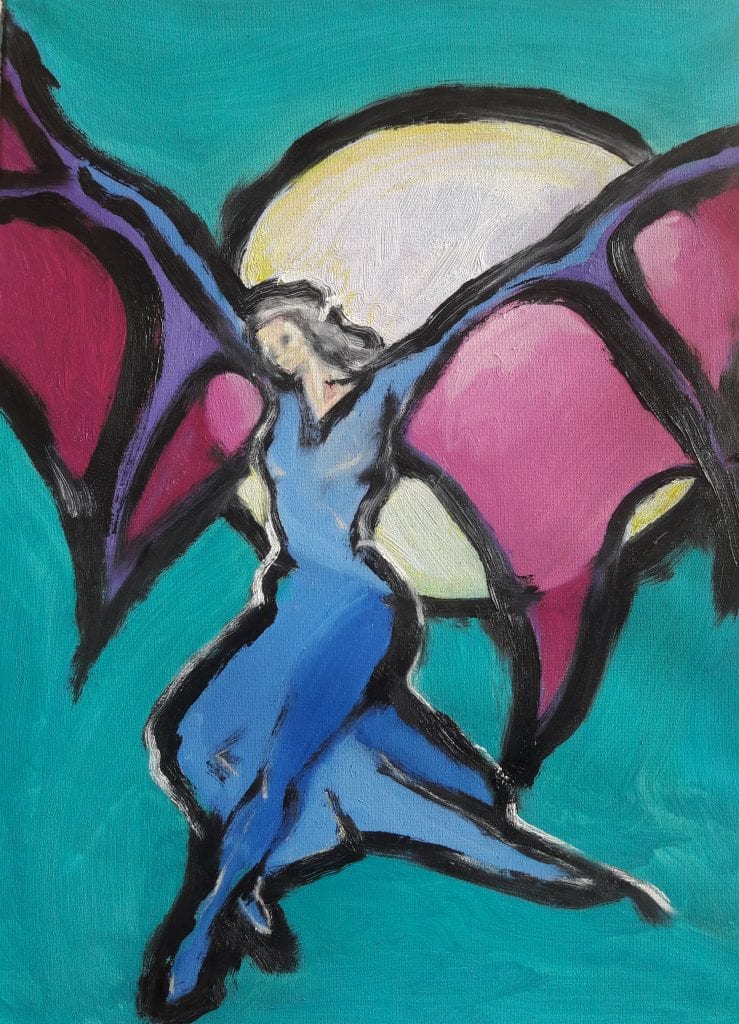 Covid 19 is said to come from bats. Bats. Mammals that fly, winging their way into popular culture and artist's fevered imaginations. Think of Dracula, Batman. Scary dudes who dominate the night and the moon.
I was in a purple mood. I went to my art studio, properly masked so I could barely smell the paint solvents, and I squished out different purple hues onto my palette. I grabbed a precious canvas, (as I'm running low on supplies during this crisis,) and I drew the bat wings in front of the full, swollen moon.
She. The human figure came out as a female. Her back was arched due to the strength required to extend those wings. Her dress was blue against the turquoise sky. She is a fairy, a night creature dancing in midair.
You can see the glow of the moon through the membrane of her wings. She is lightweight. Chimeric. A little bit magical.
I decided to give the painting a stained-glass effect. Painting the heavy Payne's Grey lines added the heft required. I have never seen purple and violet stained glass. I just imagined it, with the glow behind, adding the highlights.
This is the first draft of this painting. I think the next incarnation will have less muddy colors and a more superhero physique. I hope I can keep the creepy night monster feel. I don't know. What do you think? Have you ever felt like her?