Living in the Land of 10,000 lakes, Jennifer Szczyrbak, has no trouble finding driftwood. Lake Superior, which the largest of all North American lakes, is just a short drive up I35 from her home town. The beach comber in her loves to go driftwood hunting and the lake yields many good finds.
Being from the small town of Moose Lake, known as the Agate Capital of the World, it is no wonder that the first driftwood creation she made was a small moose. Some of her most recent sculptures are of loons with agate eyes. The discovery of this natural resource has become an excellent opportunity for Jennifer to combine her creativity and love of nature to form unique works of art that represent the land she calls home.
Prior to working with the monochromatic palette of worn and weathered driftwood, Jennifer expressed herself with highly textured and bright and abundantly colored paint on canvas. Many of her paintings express her love of perennial gardening. Her B.F.A. degree from UWSuperior came with an emphasis in painting. Jennifer admits she enjoys the change and challenge of creatively sculpting unique shapes of driftwood together to form wild animals.
Jennifer Szczyrbak paints without a brush creating sculptures with driftwood and found objects. The Moose Lake artist shares her driftwood work and studio with The PlayList.
For the first 5 minutes of this episode of Minnesota Bound, Jennifer describes her artistic driftwood process while giving us a peak at many of her beautiful works of driftwood art.
Jennifer Szczyrbak – Driftwood Artist – as featured at the Dow Art Gallery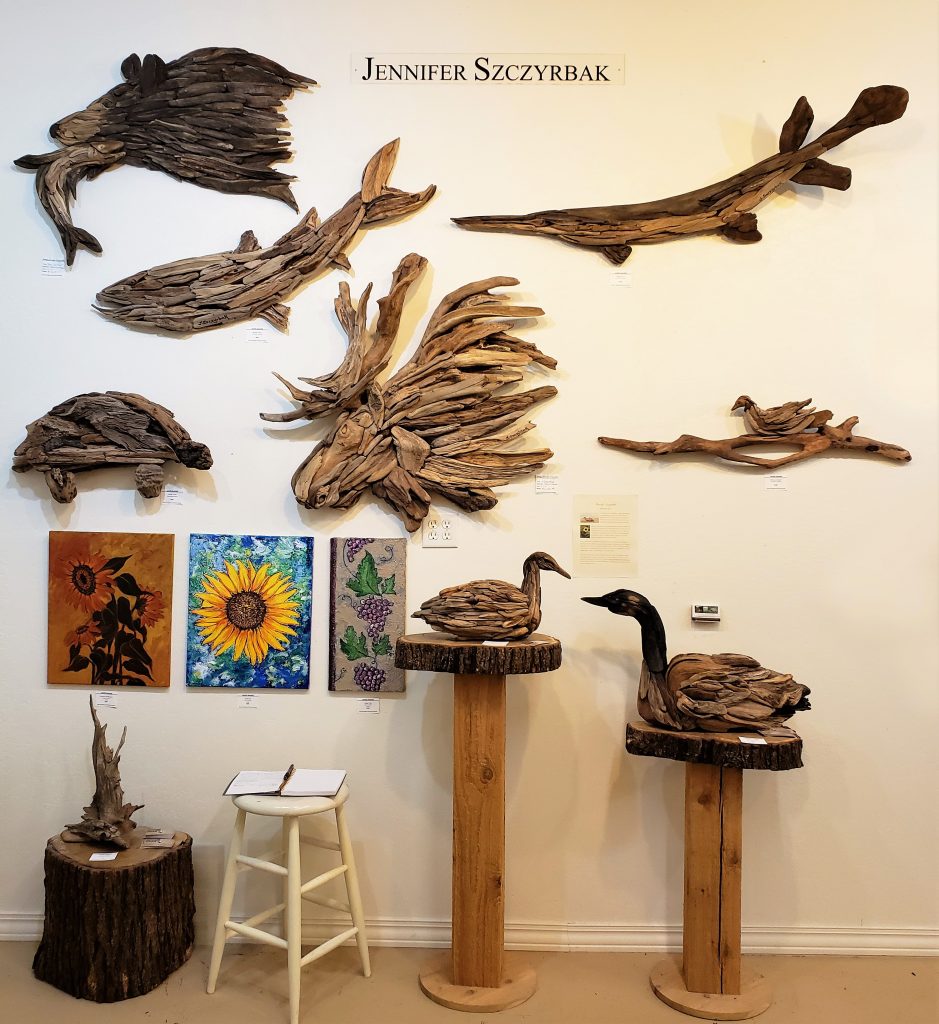 Driftwood Art by Jennifer available for purchase at the Dow Art Gallery
[ngg src="galleries" ids="22″ display="basic_thumbnail" images_per_page="10″ number_of_columns="5″ ajax_pagination="1″]
CARING FOR DRIFTWOOD ART: Handle with care. Driftwood is aged and fragile. To transport: Place hand under large sections toward the middle of the piece or driftwood, rather than small sections of driftwood on the outside of the art piece. To clean: Gently dust driftwood.
Over the past twelve years, Jennifer has balanced family life and work while managing to create a wide conglomeration of artwork. Jennifer often works on commission and examples of her work are featured here at the Dow Art Gallery, on her website and she also welcomes visitors to see what she has available at her working studio in Moose Lake. Please call ahead at 218-485-4907 to visit.
For more art by Jennifer Szczyrbak
follow the
link