Dow Art Gallery
Join us at the Dow Art Gallery as we feature over 30 incredible local artists for the 2018 Saint Paul Art Crawl.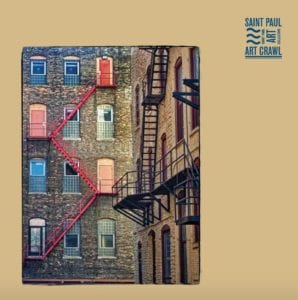 The Dow Art Gallery has been a part of the Saint Paul Art Crawl since the Gallery was founded by owner Khanh Tran in 2014. Providing a much needed space for local Minnesota artists to showcase their artwork, the Dow Art Gallery is one of the few galleries that accept new and upcoming artists.
The Saint Paul Art Crawl started in 1977. At that time, it was held at the historic downtown St. Paul Union Depot and presented as a group exhibition featuring the founding artists of the St. Paul Art Collective.
Today, the Saint Paul Art Crawl extends from downtown Saint Paul, the Eastside and Westside neighborhoods of Saint Paul,   and along University and Grand Avenues.
The Dow Art Gallery contains some of the most exciting and varied artwork within the Saint Paul Art Crawl. Every year visitors can expect to discover new local artists with fresh voices as well as more known artists such as Bill Mack and Don Dickson.
For more information about the Dow Art Gallery, please CONTACT the Dow Art Gallery via email or phone. Or simply stop by! The Dow Art Gallery is opened to the public Monday – Friday 10:00am – 5:30pm and Saturday 11:00am – 4:00pm.